A Case Study of EXTRA CO on Time and Attendance Management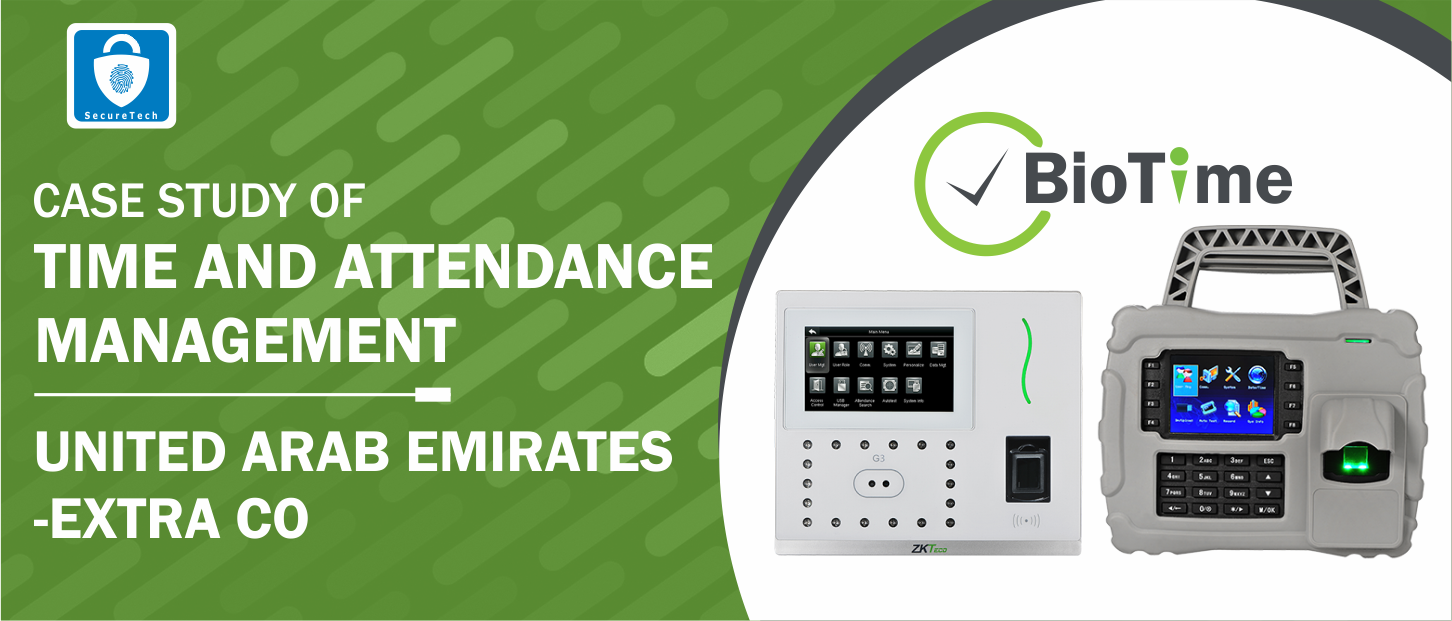 Project Description
Project Site: United Arab Emirates


Extra Co is a company in UAE that has been established in 1979 with only small operation and a few workers producing small fiberglass water tanks, and has significantly grown and now become one of the leading industrial manufacturers in UAE. They have a workforce of more than 4,500 employees and have provided products and services in Middle East, Africa, Europe, Asia, and United States.
Their main business units are composed of fiberglass composites, prefabricated houses, interior furnishings and fit-outs, structural and aesthetic precast, and metal works.
The client has different branches in UAE including their factories. ZKTeco deployed a complete time & attendance solution in all locations.
End User: Extra Co
Client Requirements
Time Attendance Devices in Different Branch Locations
Extra Co has different branches and factories all over the UAE. HR department needed to deploy time attendance terminals in all branches to record each employee's performance to make sure that everyone attends proper office and factory on time.
Centralized Time Management Software
All time attendance terminals that will be installed in different locations need to be remotely managed in one platform. The HR department needs to keep track of employee attendance records which are to be generated every month and will determine their respective salaries.
Implementation Solution
Configurations
System
Device Name
Device Model
Time Attendance
Time Attendance Terminal
G3 Plus
Time Attendance Terminal
S922
Access Control Software
BioTime
Technical Features
• A total of 40 units of G3 Plus and 3 units S922 time attendance and access control terminal have been deployed in different branches including oces and factories of Extra Co. Since the client has large factories, ZKTeco have installed more than 5 attendance devices in other factories whose data are all synchronized together. So whichever of these 5 devices will the employee punch in/out, attendance will be recorded. This was made possible through the BioTime software.
• As per the requirement of the client, all time and attendance terminals have been connected centrally and being managed remotely in one software, BioTime. Every month, the HR department is generating attendance reports to calculate employee wages.
Solution Function
• BioTime is a web-based software that is able to connect and synchronize devices in multiple locations within the same "Area". Client can remotely manage thousands of time attendance terminals in one software.
• S922 is a portable time attendance terminal with a rubber casing and can withstand up to 1-meter drop with IP65 protection rating. It can communicate to time attendance software through TCP / IP, Wi-Fi, or 3G.
• G3 Plus is an anti-glare facial recognition terminal equipped with 168 IR sensors and the latest infrared illumination technology that is able to process facial recognition precisely under strong sunlight.