7 REASONS WHY YOU MAY NEED THE HOME AUTOMATION DEVICES
7 REASON WHY YOU MAY NEED THE HOME AUTOMATION DEVICES
WHAT IS HOME AUTOMATION
The automatic and computerized control of household features, activities, and appliances is referred to as "home automation."Simply said, it implies that you may manage your home utilities and functions through the Internet, simplifying and securing your life..
DOES HOME AUTOMATION WORK?
Home automation is a collection of hardware, communication, and electronic interfaces that connects daily things through the Internet. Each item is equipped with sensors and is connected to the internet through WiFi, whether you're at home or hundreds of miles away, you can manage them with your smartphone or tablet.. No matter where you are, you can turn on the lights, lock the front door, or even dial down the thermostat.
Sensors, controllers, and actuators are the three major components of a home automation system.
Changes in the sunshine, temperature, or motion detection can all be monitored using sensors. Home automation systems can then customize those (and other) settings to your needs.
Controllers are the devices that send and receive messages regarding the state of automated systems in your house. They might be personal computers, tablets, or smartphones.
Actuators, which regulate the actual mechanism or function of a home automation system, can be light switches, motors, or motorized valves. They're set up to respond to a remote order from a control.

WHAT FEATURES ARE AVAILABLE ON THE HOME AUTOMATION SYSTEMS?
Home automation systems provide a wide range of services and capabilities. The following are some of the more common features offered by these platforms:
Monitoring for fires and carbon monoxide

Lighting control from a distance

Thermostat management

Controlling the appliances

Security cameras and home automation systems

Surveillance video in real-time

System of alarms

Text and email warnings sent in real-time

Integration of a digital personal assistant

 keyless access

Voice Control 


7 REASONS WHY YOU MAY NEED THE HOME AUTOMATION DEVICES:
       Comfort: Make your home more pleasant and livable by using home automation. 

  All of your home devices can be controlled from one place.

Flexibility when it comes to new gadgets and equipment.

Increasing the level of security in your home.

Home functions can be controlled remotely.

Energy Management and improvement

of appliance performance
In-Wall Modules or Smart Bulbs: 
The in-wall modules or smart bulbs include built-in sensors that allow users to communicate with the lights via a smartphone app interface or remote controls.
Smart Switches: Smart switches are particularly beneficial if you don't want to update your lights or bulbs but still want remote access to and control of your home lighting. Smart switches will take the place of traditional switches, and they will be controlled via the switch makers' applications or remotes.
Smart Plugs: Smart plugs are mostly used for side table lampshades and other related uses. The smart plugs are equipped with a ZigBee-enabled relay module that enables or disables the electrical supply depending on the command from the smartphone. Smart plugs can be used in geyser switches as well as any other electrical plug where you wish to turn on or off your device.
Alarms: Alarms in a home security system are essentially sirens that receive a signal from the main hub/controller unit and activate in the event of an entry detection.
Alarms that are triggered from the cloud might be useful for remote triggering of alarms and other similar applications. This means that even if an intrusion occurs in your office, you can still activate a cloud-based alarm at home.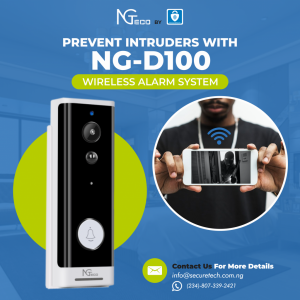 Smart Video Door Bells are crucial to the security of your smart home. The majority of smart video doorbells on the market now include a built-in camera as well as a motion detection feature. This means that the smart bell will send you alert alerts on your phone whenever a person gets close to your main door. Even if you're in a faraway place, you can instantly turn on the smart bell wireless IP camera to see who has paid you an unexpected visit.
Smart Door Locks: Smart security door locks have built-in modules that receive wireless ZigBee and Z-Wave commands and allow users to execute keyless door lock and unlock operations. Users may lock and open their doors from afar and grant access to their loved ones.
Security Cameras: The most essential aspect of smart security cameras is the ability to monitor them remotely. The IP-based smart wireless camera connects to your home internet network via Wi-Fi and can send live video to users at a distance. A few smart cameras additionally contain motion detection sensors that alert the user as soon as any movement is detected.
Flood/Fire Sensors: Flood or water leak sensors are particularly beneficial in regions where there is a lot of water usage, such as near dishwashing machines, beneath every sink, or in areas where your home's pipes are leaking. These sensors will alert customers to any potential water leaks immediately, allowing them to take proactive measures to avoid additional serious harm.
Similarly, fire or smoke sensors in smart homes are useful in kitchen areas. In the event of an accident, these sensors will alert users and assist them in taking prompt action. In the event that a fire is detected, you can instantly activate the water sprinklers in your home to avoid further damage.
To get your smart home automation devices, you can send a WhatsApp message…