Access Control Systems: What Is It?
Getting started with access control can be overwhelming at first with so many technical terms and things to wrap your head around.
But understanding access control systems is really an achievable goal.
As long as you are carrying an access card or ID badge, it means that your office uses an access system
But how does it really work?
It's difficult since most people have never seen an access system.
Most people believe it is just a card reader on the wall.
Of course there is a little bit more to it in reality.
It's not very difficult though, there are just a few parts behind the scenes that make the magic of easily unlocking a door every time.
What is an access control system? 
An access control system allows you to manage, monitor and maintain who has access to for example your doors.
The simplest form of "access control system" is a standard deadbolt with a brass key.
Using an access control system allows you to manage access or entry to almost anything: file access, workstation access, printer access and in our case, door, facility, building or office access.
The standard form of today's access control is an "access card" instead of the key to grant access to the secured area.
In the case of access to larger buildings, the exterior door access is managed by the building while the interior door – or tenant door access is managed by the individual tenant company.
Why do we need access control? 
The purpose of access control is to provide quick, convenient access control for authorized persons, while at the same time, restricting access for unauthorized people.
Here are more reasons why access control is playing a significant role in your organization:
Compliance:

Some companies need to be compliant with data regulations.being able to pull compliance reports for access control can be a necessary request.

Experience:

If you have a lot of visitors or clients coming in your space, you might be looking for a welcoming experience at the front door or front desk. Access control can not only help but also make your space better

IP / Data:

If you are working in a company with an expensive product or sensitive data. You definitely want to control who is coming into your facility.
Basic Components of Access Control systems
1. User-facing
The user-facing side – often called "credentials" Access credentials in form of access cards, ID badges or smartphone based mobile credentials, When presented at a card reader on the wall, it beeps and hopefully you are permitted to access and the door unlocks. The user facing side is what you have on you that gets you the permission. The device on the wall reads your credential or permission.

2. Admin-facing
The admin facing side is where your office administrator, head of security or IT manager sets the parameters of who is allowed to access under which circumstances. This involves a management dashboard (often in the cloud these days) and a way to provision access, e.g. a card programming device. In more advanced systems the manual operations aspect can be automated – as an example the provisioning and deprovisioning (creating and deleting access) can be done automatically by connecting the access dashboard to your company directory of employees. When a new employee shows up in the system, a new access right is automatically provisioned via a directory like Google Apps or Microsoft


3. Access Control Infrastructure
Access Control infrastructure is to most people the most mysterious aspect of access control systems. Obviously there are electronic locks installed – but what most people don't know: Those locks are all centrally wired to your IT room.
This means: A power or signal cable runs from the lock through the walls into your IT room where the access control panel sits.
The access control panel gives the lock the signal to unlock when it receives the request to do so by the card reader.
There are different topologies (as people call it) but for the basic understanding of access control systems let's just assume this described flow for now.
Types of Access Control Residential and Commercial Buildings
1. Manual Access Control
People are used to securing specific access points, such as doormen, stewards or customer service agents.
They identify people who want to enter the premises and decide based on predefined criteria whether or not they can ,for example, a person presenting a ticket before entering a concert venue.
This is often practiced at highly frequented access points such as cinemas, theatres, zoos and theme parks where it is difficult to get information from people beforehand and identification isn't required. 
2. Electronic access systems
For buildings with advanced security requirements, electronic access control can be used to secure access points.
For these types of access, a card, chip or other fobs with the correct credentials must be presented to a reader in order for a person to pass through. 
This will also keep a record of who has passed through the area and when.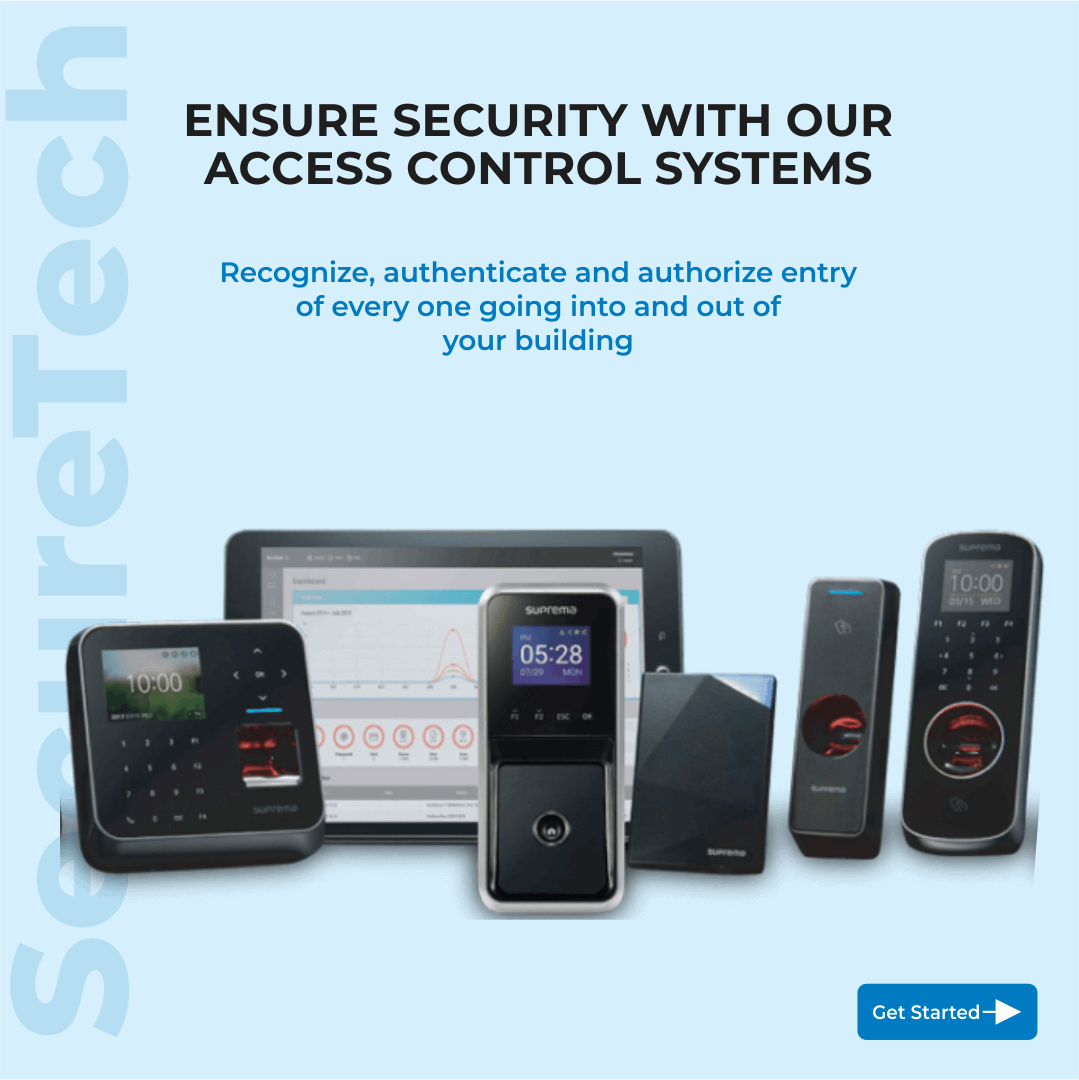 There are two types of Electronic access systems:
Standalone systems


These are used for single access points. The access decision is made on the basis of access permissions locally in the standalone component. These systems are not wired, which means the installation requirements are less than wired controls, saving time-on-site and allowing for easy retrofitting of components. Using standalone access components vs wired online access control, for sites where access control would traditionally not be possible due to location or existing site infrastructure, a standalone component can be used to implement an access control solution more effectively. Standalone components can also be integrated into a larger access control system with a combination of both online and standalone components. In addition, it is easy to integrate offsite access points, and provides the possibility of integration into bigger systems. Examples of standalone components include Digital Cylinders, Mechatronic (Electronic and Mechanical combination) Cylinders, and Electronic Door Locks

.
Online systems:


Used for larger sites with high access rates, these are wired and connected to the host system's access control software. High-security levels can be achieved with these systems due to the real-time message exchange between the components and the software. In addition, there are interfaces to many other systems that can be incorporated, such as an alarm system, elevator control, etc. 
3. Mechatronic Access Control
 A combination of electronic and mechanical can also be used to offer further security.
In this instance, the electronic system first checks the card/code/other media used, and only after passing this can a key be used on the mechanical lock to open the door.
This sort of combination is typically used in offices with high-security requirements, private residential buildings, and server rooms.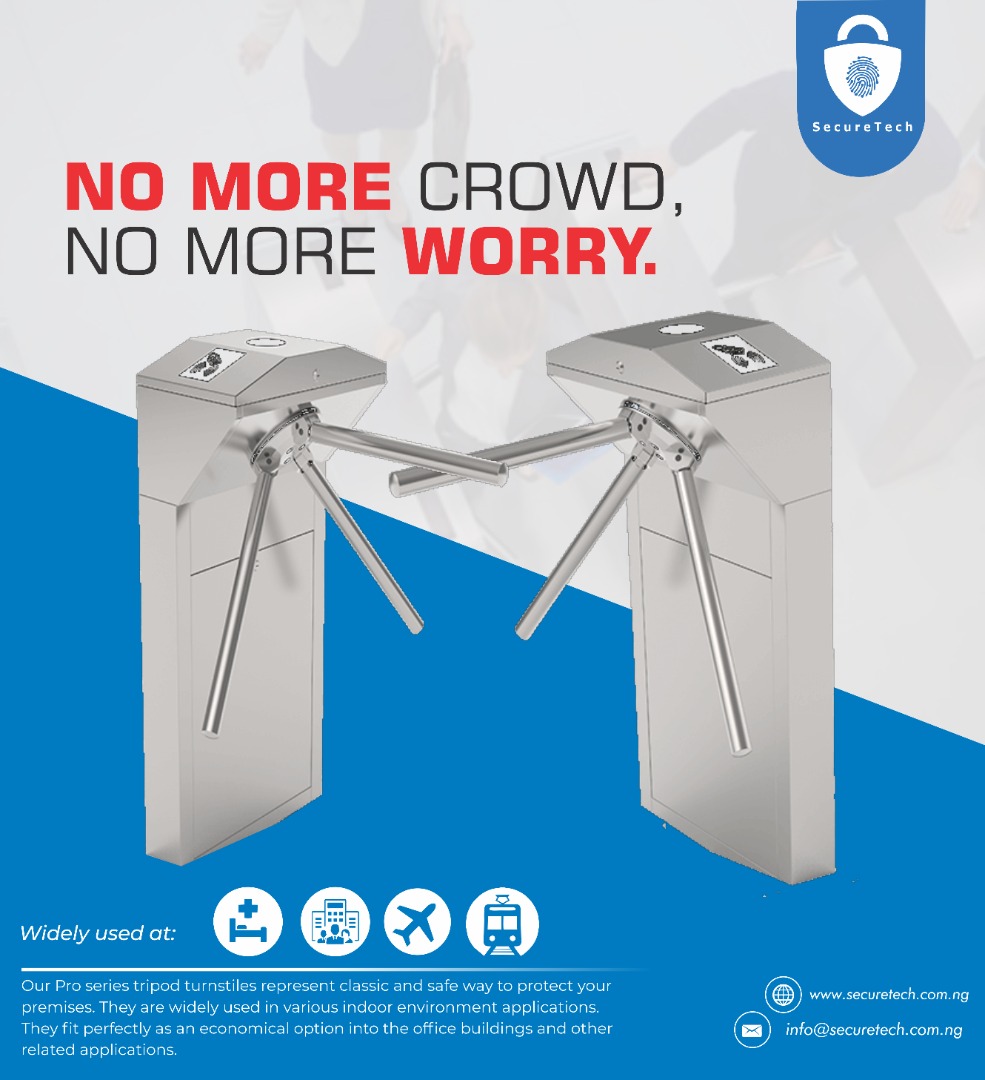 4. Physical Access Systems
Physical access systems play an important role in access control and security – no matter how high quality a lock or access control system is, if the door or physical access system can be overpassed then it is of little importance.
Thus, the physical access system must be viewed holistically and in line with safety requirements.
Examples of physical access systems include: 
Sensor barriers 

Half-height turnstiles

Full-height turnstiles

Tripod turnstiles

Revolving doors

Security interlocks
Whether residential or commercial, access control systems are vital to protect premises from unauthorized persons.
Our experts are available to take a broad look at your security needs and provide solutions to ensure the safety of a place, its occupants and the items inside. 
Message us now on WhatsApp to get started.