OTP Token thinner than 1mm
Easy carry and smart choice.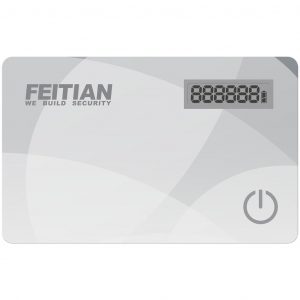 The combination of Card and OTP
The card fits both ISO-7810-ID01 standard and your wallet.
EPD
Besides normal LCD screen, there is an option of EPD (E-Ink Printed Display) available for Power Cards, which provides lower energy consumption and better eye protection.
PIN protect function & secure digital signing
We also have cards that provide PIN protect function, time based or Challenge Response unlock function available. Challenge and Response (OCRA) code for sophisticated two way authentication between entities with knowledge of the unique key, in addition to the secure signing of data, transactions, emails, or other sensitive information.
Mini size
FEITIAN also provides mini Power Card as an extra option. It has full functions like standard Power Card and much smaller.
NFC
With FEITIAN specialized application, it is able to program seed by using NFC interface with smart phone or Smart Card reader.
Battery
Thanks to the low power consumption chip inside, Power Card can sustain a life cycle above 5 years.
2 algorithms supported
We support 2 different OTP algorithms to meet different requirements and scenarios, enabling the maximum flexibility to the customer.
Seed security, all in control
FEITIAN secure production system consists of dedicated hardware devices and OTP production management system which is used to centralize and simplify the administration process of OTP token production, enabling customer with the ability to totally control the seed security in different levels.
Flexible customizations
We offer complete customization options for casing, packaging and related service to enable the ability of creating your very own Power Card.