4 TYPES OF TURNSTILES
Turnstile access control systems are used to control traffic, restrict access, and offer security. They control crowds as they leave the premises; they are mostly used in entrances like, stadiums, Banks, Schools, event centers, amusement parks, Athletic centers as well as provide security in high-risk places such as corporate premises, data centers, and construction sites.
Depending on the function of the premises where access control is necessary and the demands of the facilitator, various types of turnstiles can be installed. Controlling the space in places with a big number of people, such as sports stadiums or transportation hubs, will necessitate an entirely different type of turnstile than in a commercial facility. The design of modern turnstiles may satisfy the needs of a wide range of various establishments.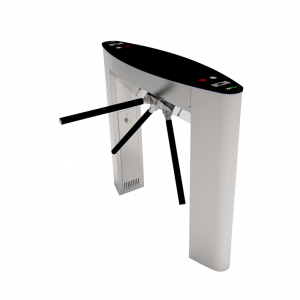 Three rotated arms make up the tripod turnstiles (steel bars). Due to the following design qualities, they are the simplest but most popular type of turnstile:
-Compact size – The ability to fit several units into a small space, such as short passageways
-Durability – It is dependable in operation, resistant to mechanical damage, and may be used in high-traffic applications.
-Servo Operation – A device that rotates the hub automatically to provide access and then returns it to its original position at the end of the cycle.
-Fire/Panic System –  The devices include an automatic anti-panic" system that lowers the blocking arm and fully opens the lane for free movement.
There are specialist units, as well as conventional ones, for placement in public transportation hubs and integration with ticket-access systems.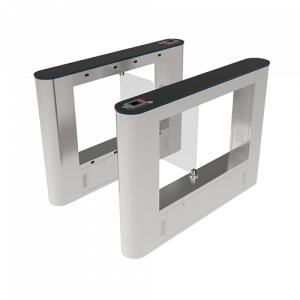 Swing gates, which are more commonly utilized as auxiliary access control systems, includees the following characteristics;
-When a dedicated signal is received, the gate will open automatically and remain open, letting several people pass through at the same time.
-Because these gates lack presence sensors, they do not react to a person in the passageway, and safety is achieved by limiting the blade's static trapping force.
-Swing Gates can have blades as wide as 1200 mm and serve as an emergency exit in the event of an alert, with the added benefit of allowing trolleys and bulky things to be transported.
When operated in manual mode and controlled by a security operator/receptionist via the control panel or a radio remote, the swing gate turnstiles can be used as the main entrance passage.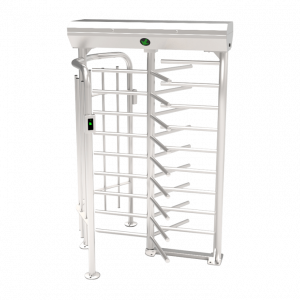 The most popular type of turnstile for premises requiring total access protection is full-height turnstiles. Turnstiles of this type can't be jumped over or squeezed through. Full-height turnstiles can have either an X-type (90 degrees) or a Y-type rotor (120 degrees). Any form of access control system can be combined with full height turnstiles.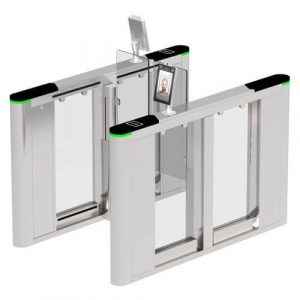 Aesthetically pleasant contemporary styling, built from stainless steel, polycarbonate, and impact-resistant glass are just a few of the features of the swing turnstiles. As standard, a three-color change backlight system is attractive and effective. Optical safety sensors that prevent multiple passing by unauthorized people. Gates open and close quickly and efficiently. These units will work well in high-traffic locations while also blending in with the overall style of the building.
WHY DO YOU NEED TURNSTILES FOR YOUR OFFICE PREMISES?
 Improve the Standardization of Office Buildings
In-office buildings, face recognition technology is deployed. Every individual entering and exiting the building will be recorded by the pedestrian security turnstile gate. The pedestrian security turnstile door can also prevent irrelevant social personnel from entering the government unit to cause trouble, as well as all kinds of phenomena that endanger the personal and property safety of the staff, greatly improving the personal safety and property safety of the staff in the government unit.
Security and Management Costs Reduction 
The implementation of a human face recognition channel gate will considerably improve the safety and uniformity of office buildings, and the security staff can be decreased properly, allowing the office building's running costs to be managed and reduced.
Every Person in and Out of the Office Building is Managed Efficiently
The face-recognition pedestrian security turnstile gate will be more accurate and dependable in identifying persons entering and exiting the office. It not only prevents people from using other people's certificates to gain access to government offices, but it also allows office workers to avoid the embarrassment of being turned away because they forgot to bring relevant certificates by using intelligent recognition, allowing them to easily enter the attendance system and put it to work.
Ensure the Security of Office Complexes
The office building is one of the areas where things are readily misplaced and people argue and fight, posing significant property and security threats to those who work and live there. On the one hand, it can effectively control the number of people entering the office building; on the other hand, it can effectively refuse strangers and office building personnel entry, greatly improving the overall quality of office building personnel; on the other hand, it can effectively hinder fugitives' entry and greatly protect the safety factor of office building personnel.

USES AND BENEFITS OF TURNSTILES
USES
Entrance Control – Turnstiles are commonly used at facilities and venues to manage who is allowed to enter and when they are allowed to enter. A corporation can manage admittance into their facility autonomously and efficiently by installing access control systems with entrance turnstiles.
Security – To improve security, facilities and events frequently install turnstile entry control systems. They can be set up to allow only those with valid credentials (such as a pass, keycard, or fob) access, and they will remain locked until those credentials are supplied.
Attendance Counting – Turnstiles can also be used to track how many people enter and exit a place. Entrance turnstiles and departure turnstiles with counters are used by many amusement parks, sports stadiums, and corporations to gain exact assessments of how many people are in their facilities, when peak traffic occurs, and whether or not there are still people in their facilities.
Payment Enforcement – Turnstiles are also frequently used to coerce payment during events. A turnstile can help any venue that requires tickets or payment upon entry enforce authorized entry.
BENEFITS
Visual Deterrent – Turnstiles, particularly full-height turnstiles, serve as a visual deterrent to potential attackers. The massive steel structure deters the majority of criminals. and the sheer size of most turnstiles before they ever devise a strategy to gain unauthorized access in the first place.
Efficient Throughput – The installation of a turnstile access control system allows for the efficient entry and departure of a facility. This is due to the fact that visitors can simply produce their credentials (such as a key fob, access permit, or ID card) at a turnstile to obtain entrance. People must be manually verified for credentials by an operator without entrance turnstiles, which takes far longer than utilizing turnstiles.
Minimized expenses – In the long run, using a turnstile access control system saves you money. These systems can operate totally independently, eliminating the requirement for employees to check people in or verify their eligibility to enter. They also make it far more difficult for customers to enter places without paying, allowing you to reduce losses and boost profits.
Increased analysis – Turnstiles are frequently equipped with counters that track how many people enter a facility and when they do so. This data is crucial for a company's analytical staff.. There is no such thing as too much information for a corporation, and this admittance analysis proves to be some of the most crucial data for amusement parks, subway stations, and other locations.
To discover more about our various Turnstiles in the shores of West Africa and Nigeria, contact SecureTech Nigeria.
For more enquirers on the best biometric system(s) fit for purpose in your homes and organization please contact us
No. 39/ 40 B, Tafawa Balewa Square, By BRT Pack.Lagos Island.
+234 811 2677 777,+234 811 3677 777,
info@securetech.com.ng