ARE SMART DOOR LOCKS SAFE?
I traveled on the first flight from Owerri to Lagos for a business meeting. While on the trip, I was scrolling through my timeline on Twitter and I came across a news outlet reporting a robbery that had just taken place in my neighborhood. Homes being ransacked and some being razed.  I was about to scream because I didn't remember to lock the exit door in the kitchen but … then, I remembered my smart lock. Immediately,  I reached out for my phone, checked the log to know if there were any false entries, and immediately locked my house from my phone; what a Relief.
A lot of homeowners have become victims of burglar and theft because they are yet to experience a  Smart Door lock
 Learn More: https://youtu.be/qi0DQFxOR8o
Even for those who haven't gone as far as automating their homes, smart locks have become such a prevalent component of smart homes as they provide new levels of ease and efficiency to a part of the house that hasn't seen much development in the past.
WHAT IF THERE'S NO ELECTRICITY?
Prospects who are interested in purchasing smart locks frequently express these worries. If this is preventing you from purchasing Smart Door locks from Securetech, here is a simple answer: smart locks utilize AA batteries. AA alkaline batteries, yes
Also, the locks will give you alerts when your battery becomes low. 
You see, There's nothing to worry about.
Smart locks also eliminate the need to check your pockets or luggage every hour to ensure your key is still in place. Your smartphone, fingerprint, or a set of pin codes serve as your key.
As a result, you won't have to worry about losing your keys or having them duplicated.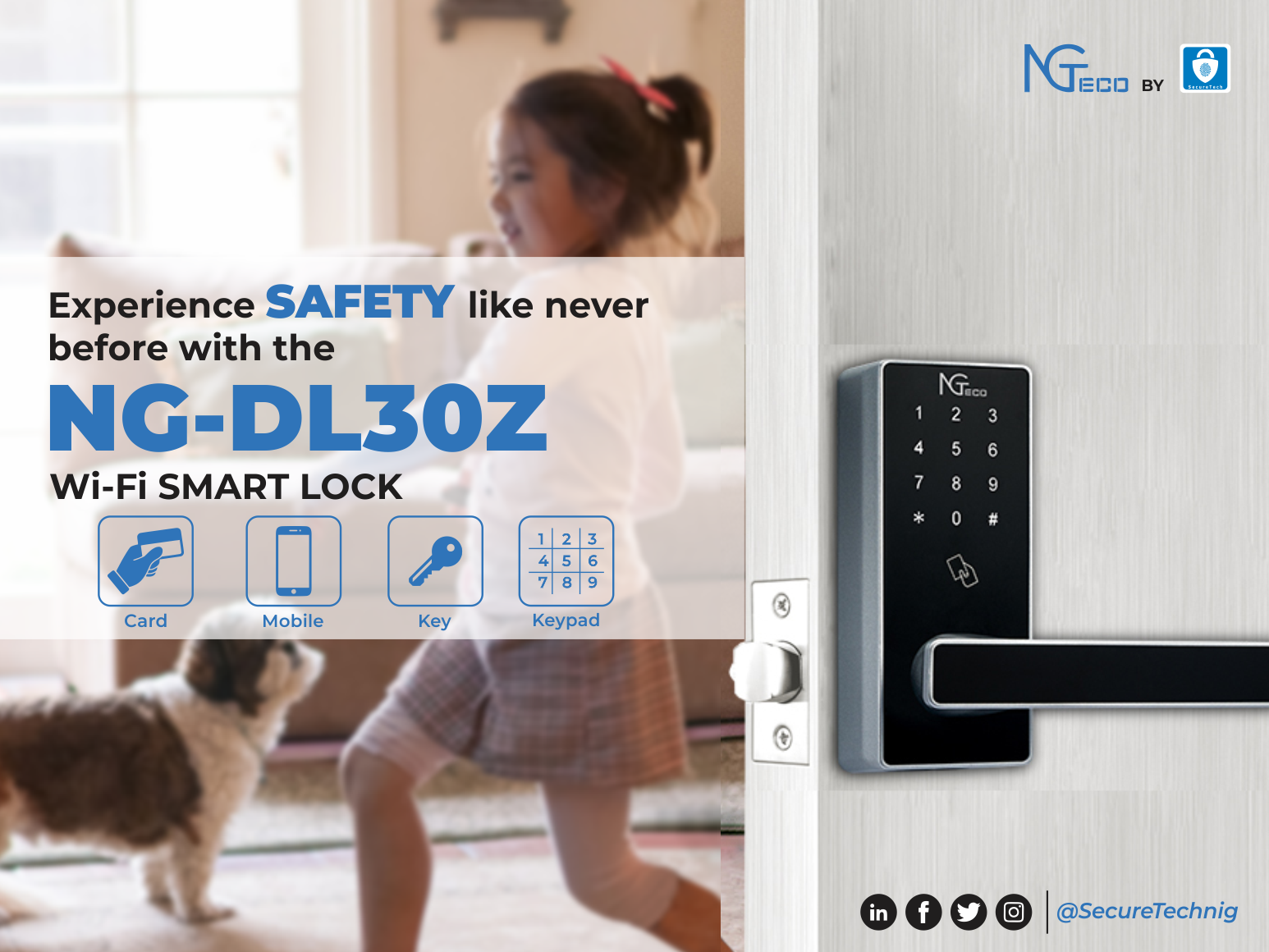 Click here to learn about NG-DL30Z
TAKE CHARGE
Consider how the lights in your living room turn on automatically when you walk into your house and open your Smart door lock. Thanks to third-party compatibility via Wi-Fi and Z-Wave, smart locks can now communicate with a wide range of smart home devices as they are compatible with voice assistants such as Amazon, Alexa, and Google Assistant. 
You can lock and unlock your doors from your master's bedroom and even remotely using only voice commands.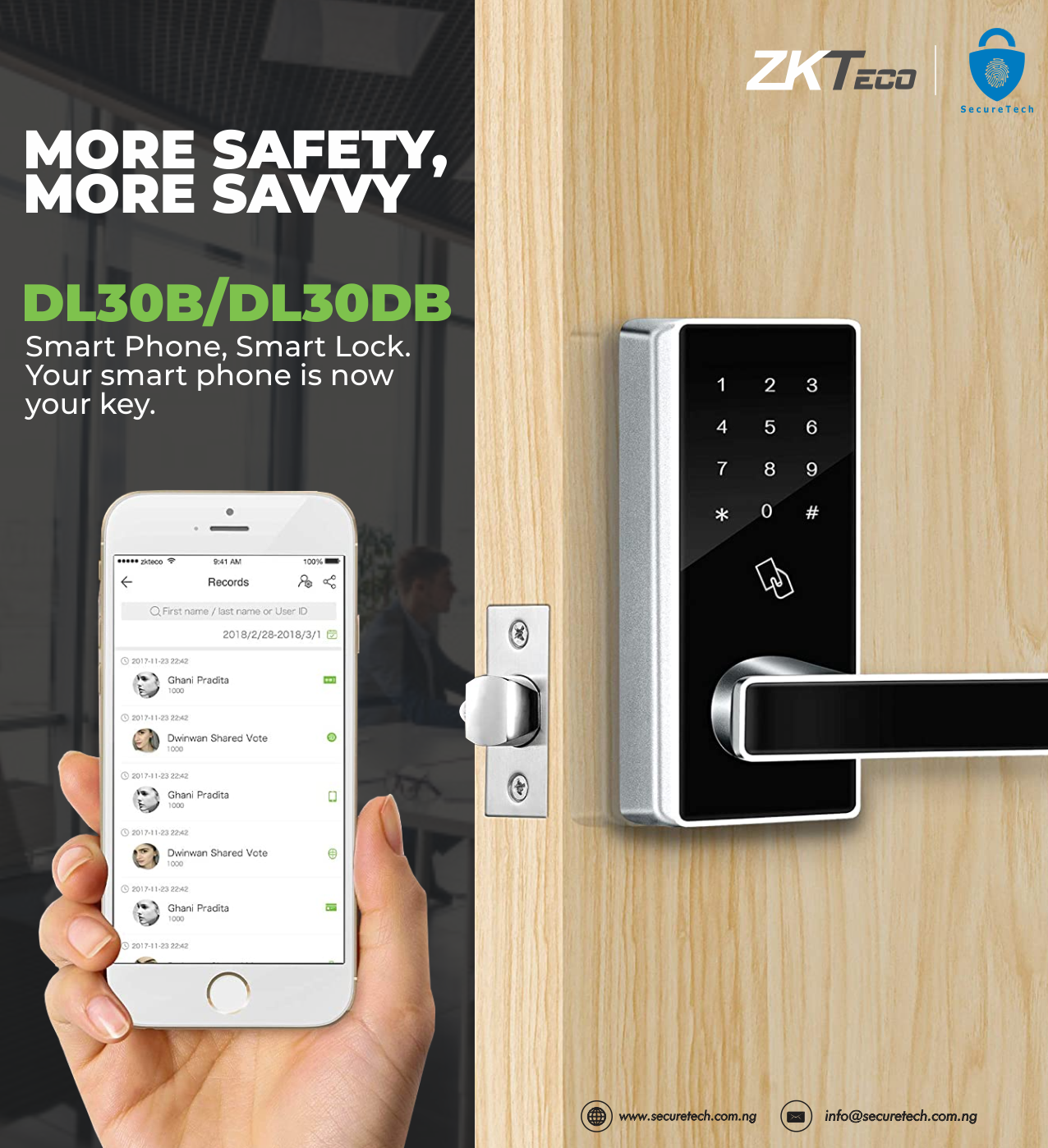 Click here to learn more about DL30B/DL30DB
OPTIONAL TEMPORARY ACCESS FOR LOVED ONES
While you are away from home, you can offer temporary passcodes to Your loved ones in case you won't be around for a long while, and of course, you can change it in case you have any reason to.
OH, I FORGOT MY KEYS…you don't have to
Smart door locks have eliminated the need to check your pockets or luggage every minute to ensure your key is still in place. Your smartphone, fingerprint, or a set of pin codes serve as your key.
As a result, you won't have to worry about losing your keys or having them duplicated. 
Trust me; This is so convenient.
Summarising the answer to our question, Smart Door Locks are SAFE as they have become a recent revolution which is 100% safety assured for you and your loved ones. This is why we will be happy to help you make the right Smart door lock choices from the arrays of unique options.
Contact Securetech via phone calls +2348113898227
WhatsApp: 08073392421
Email: info@securetech.com.ng