5 ways to make your home office more secure Inclusive a video doorbell
5 ways to make your home office more secure Inclusive a video doorbell
Secure your home office in the most unique way if you look forward to having a seamless work experience even in the midst of a pandemic. The number of people who work from home, whether full-time, part-time or sometimes, is continuously rising. There is a lot of advice on the benefits of home offices and how to safeguard data, but there isn't much on physical security in home offices.". A safe house with adequate doors, locks, alarms, and other security features is a fantastic place to start. But what about the real office space at your home office where you work?
For a burglar, a home office is a particularly appealing target since it usually contains equipment that can be readily stolen and sold. You could even keep cash or a safe at your home office, depending on your job. Someone attempting to acquire access to information about the organization you work for, especially sensitive documents that risk your competitive edge or client connections, is perhaps a more significant threat.
A home office satisfies both personal and professional security requirements. With this in mind, we've compiled a list of physical security tips for the home office: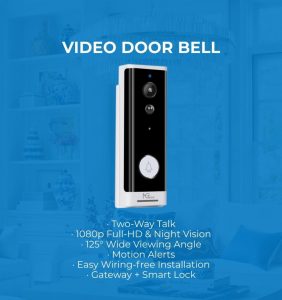 Doorbells with cameras and intercom capabilities are now available from a variety of manufacturers. An alert appears on your phone or computer when someone rings the doorbell. As someone approaches the door, motion sensors detect movement and the camera is activated. You may then communicate with the individual via an intercom system that you can control from your smartphone, tablet, or computer. You can request that salesmen leave or that a delivery guy just leave a box. You may use the app even if you are not at home to see the image and speak with someone at your front door. These gadgets can alert you to who is approaching your door before you open it.
Your Office's Location:

In general, if your home allows it, it is preferable to have your home office on the second level. This keeps burglars from viewing your workplace through a window on the ground floor or in the basement. You may also have a better view of automobiles or persons approaching your home if you are on the second or third story. If you have a home office on the first floor or in a basement with a window, it's a good idea to turn off your equipment before leaving so that the light of computer displays and other equipment isn't visible through the window at night. In lower-level workplaces, it's also a good idea to have shades or thick drapes that can be pulled so that others can't look in when you're working late at night.

Cameras for the Home:

Security cameras are another safety element for your house that may also help your home office. There are a variety of brands that are intended to be activated by movement. They can also distinguish between family members and pets in your home and outsiders. If someone enters your house, these cameras can send you an alarm, and the image may be seen on your smartphone, tablet, or computer. If you have an office in the basement and are unable to see who is entering the house, such cameras may be quite useful.
Protect your online privacy
It's crucial to look at where the Internet cable enters your home, in addition to having passwords on your Wi-Fi service. Wires may be readily cut to disable security measures or spliced into your Internet, allowing unauthorized users to access it. Harden your wire with a conduit that can't be readily cut, or safeguard your Internet connection with one of the locking network interface boxes available on the market. Another strategy to keep your Internet safe is to change your passwords on a frequent basis – this is just as essential at home as it is at work. Keep in mind that your Wi-Fi might "leak" outside of your house. Also, reboot your router on a regular basis to activate router upgrades, which may contain increased security measures.
Cabinets and/or doors that can be locked:

Make sure your office door has a solid core and Door locks – preferably with a deadbolt – to keep people out after hours or while you are not at work. Make sure you have lockable cupboards to keep your computer and critical materials if you operate in an open space without a door. Consider implementing a "clean desk" policy at your home office as well. As an example, placing your materials and papers in a secured cabinet can keep critical information out of the hands of others. A tidy desk and closed doors or cupboards are also a good idea if you have children, as they or their friends may be tempted to rummage around a home office.
To discover more about our various Security devices and software in the shores of West Africa and Nigeria, contact SecureTech Nigeria.